Reading Alice the Fairy
Having Allen home has, of course, been wonderful. In some ways, it still doesn't seem real. We will have a lot of adjustments to come, since Allen still hasn't caught up to our time zone. As you could tell from the pictures, Ashlyn was not all smiles at the homecoming, but that didn't last. I think she may have just been overwhelmed by everything at the moment. She has been hugging on her daddy since then, and just enjoying being with him. Actually, by Friday night, he had already reached the celebrity status that had formally been reserved only for "doggie" and "kitty." Ashlyn just squealed and yelled "daddy" when she saw him. I do not receive this type of a greeting, ever. This morning, Ashlyn spent the morning with just Allen, while I ran errands and went to the dentist. This dual parenting thing is great!
Ranger and Armand have also seemed excited to have Allen home. Ranger started running around Thursday night and pulled out a toy to play with Allen, which he really hasn't done in months. (How have I not noticed that my dog is depressed?) Armand has really always preferred Allen and has been going to him for attention. I think that he prefers Allen because of his often reclining pose on the couch. He just makes a better bed that way. On a bad note, I am really a bad dog mom. Ranger had a seizure tonight. I think it must have happened while I was in the shower. I have not been good about giving him his anti-seizure medication lately. I feel terrible. Poor Ranger.
The Cheneys
So, we went to another homecoming tonight. They are the best, though I hope that I will never have to experience another one!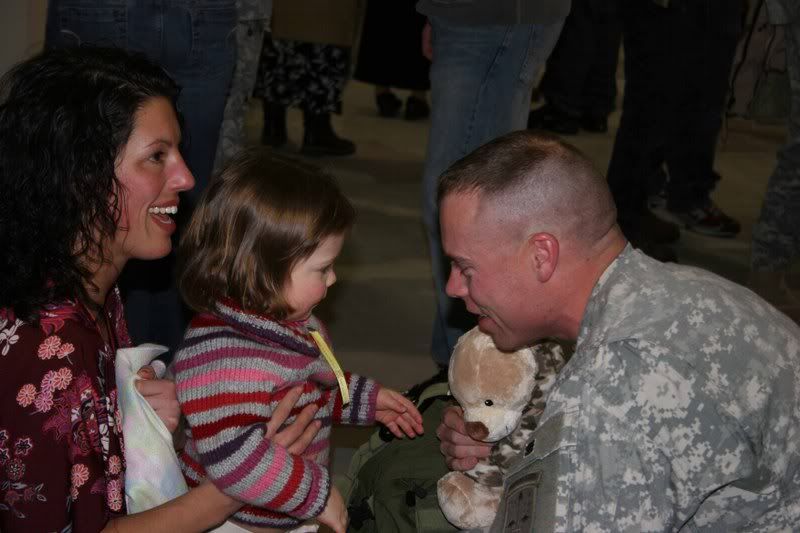 The Glemsers
I haven't heard any updates recently, so the latest news is that Christal is in labor. No baby yet, though. Hopefully, I will have news and pictures soon.
Ashlyn was looking at the light on Allen's ipod.
Ok, off to bed.