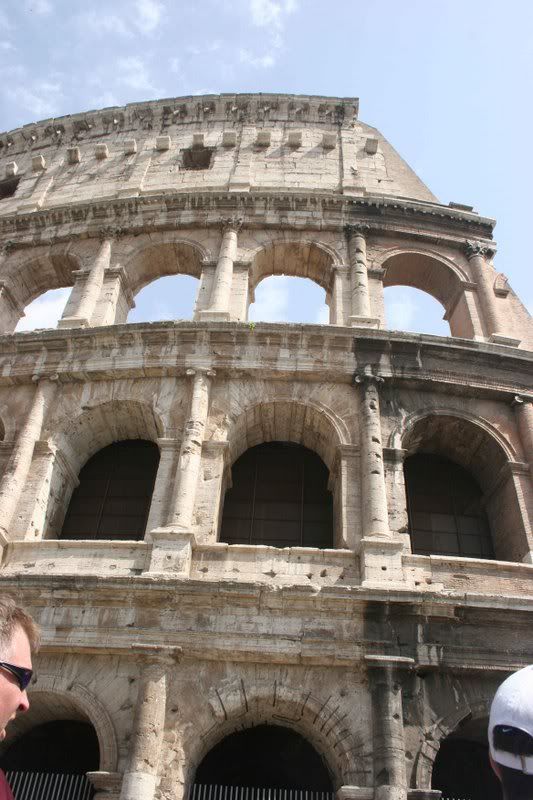 Ok, we've been back almost two weeks, and I still haven't shared any pictures from our trip. Terrible, I know. Of course, I was determined that I would be on the blog at the beginning of this week. Then, no internet. So, our Italy trip. (I posted this a little backwards, since I'm doing it all in one day, so you can just scroll down.)
I know, we were just in Italy at the end of May. Our original plan was to go to Paris for leave this summer, but we started talking about the places we wanted to see while in Europe. Rome was at the top of our (meaning my) list, so we went to Italy instead.
Rome was HOT!! Our plans to go to Paris, and saving Rome for the fall or spring, would have been a great. Rome was hot, and it was just June. I can't even imagine going there in August. If you are considering it, change your plans. Ok, it wasn't really that big of a deal, but it was also very crowded. Many, many Americans were in Rome (and Florence, and Venice.) While we still had a good time, I would have enjoyed many of the sites with thousands fewer people.
We decided to take the train to Italy this time and started on a sleeper car. I'd told Ashlyn that we were going to sleep on the train a few weeks earlier when I bought the tickets. She was pretty excited, and had been asking about going "night-night on the choo-choo" ever since. (She also wants to take the dog and cat on the train. Now, the cat on the train, that would be fun.) She had a bit of a hard time going to sleep and fell out of her bed once, but went right back to sleep. The plan was to arrive at 8 am, but someone was protesting by chaining themselves to the tracks. So, our train was delayed by 3 ½ hours in a town about 2 hours outside of Rome. Thank goodness for our portable dvd player! It has already been a lifesaver on two different trips. We normally wouldn't just plant Ashlyn in front of a television, but when she has nowhere else to go, completely worth it.
So, when we finally made it to Rome, we checked into our apartment, after a bit of confusion at the train/metro station. After showering, we headed to the Colosseum, where we ended up taking a guided tour of both the Colosseum and Palatine Hill. While the tour itself might not have been great, we were set up for a tour of the Vatican Museum the next day.
From Palatine Hill - If you look closely at this picture, you can see the sweat covering our faces.


If you are ever planning on going to the Vatican Museum during any kind of busy season, or possibly anytime, don't just go stand in line. I never saw the end of the line of individuals. It wrapped around the outside of the Vatican, before the museum even opened. The tour group line is much shorter and they let tour groups into the museum much earlier than individuals. The Vatican Museum was really our main reason for going to Italy. I wanted to see the Sistine Chapel! While it was incredible, (aside, I read an online travel journal of Italy before we traveled. The guy writing it had apparently been completely unimpressed with the Cistine Chapel, his spelling, and recommended that Michelangelo take advice from Bob Ross, you know the guy, Happy Painter on PBS, and shouldn't have included so many images. Ok, right.) there were soooo many people in the chapel, that it was difficult to take the time to really appreciate the ceiling. It didn't help that while there are no pictures or talking allowed in the chapel, but about 1/3 of the people were taking pictures with a flash, and the guards kept having to shush the crowd. But, I'm sounding really negative here, and it wasn't a negative experience, it was great. Go see it!

After the Vatican Museum, we walked over to St. Peter's Basilica. Again, amazing artwork (pieta by Michelangelo) grand, huge beautiful cathedral. Just the size of the cathedral was difficult to take in. I did take a couple of pictures inside both places, but they are just inadequate. By the way, yes, Ashlyn was with us on both of these tours. We were complimented multiple times on how great she was doing. Everyone else seemed really impressed. We thought they should be more impressed with her parents for taking her away from the tour when necessary. Though, really, she was pretty good, for truly having no interest in anything we saw in Rome. She did say "wow" many times, but just as likely for a bird as an incredible sight.


After all of this sightseeing, we went back to our room and napped. After dinner, we walked around a bit to see a few sights at night.

In front of the Trevi Fountain

Our plans for the next day was originally to head to Pisa and then on to Florence. With arriving late in Rome, there were still a few more things that I wanted to see, so we decided to skip Pisa (they have a tower, it leans, ok.) Instead, we headed back to the colosseum area to look at a few more of the ruins, then over to the Pantheon before going to Florence.